Our supporters work really hard to raise vital funds within our community by hosting creative events in aid of St. Michael's Hospice. We are excited to share the upcoming supported events below – thank you and well done to everyone who raised vital funds for our patients!
Upton Grey Autumn Festival – Saturday 28 October
The annual Upton Grey Autumn Festival will be held this year on Saturday 28 October at The Hoddington Arms, Upton Grey. In the weeks leading up to the day villagers will be displaying Guy Fawkes and Jack O'Lanterns around the village for judging. Starting at 6pm at The Hoddington Arms on the evening, mulled wine will be served before the procession will lead everyone onto The Hoddington Estate for the bonfire and fireworks display. All proceeds from the event will be going to St. Michael's Hospice.
Tickets are £10 for adults (free entry for children) and are available from The Shop in Upton Grey and The Hoddington Arms. For more information please click here.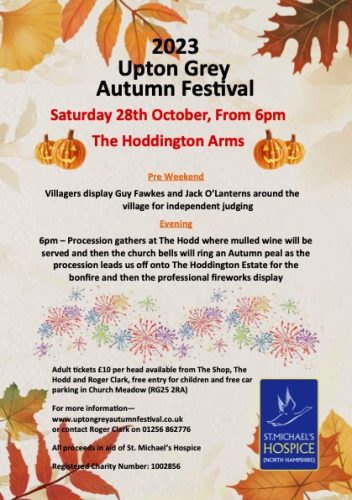 Mr Flaherty's Private Theatricals presents A Christmas Carol – Thursday 14 – Saturday 16 December
Mr Flaherty's Private Theatricals has very kindly chosen St. Michael's Hospice to support with their retiring collection and raffle at their Christmas performance of A Christmas Carol. The play follows the journey of Ebenezer Scrooge as he is visited by the Ghosts of Christmas Past, Present and Yet to Come, who show him the consequences of his selfish ways and help him learn the true meaning of Christmas.
Performance nights are Thursday 14, Friday 15 and Saturday 16 December at Central Studio, Queen Mary's College, with the performance starting at 7.30pm. Tickets are £15 each and are available to purchase online here.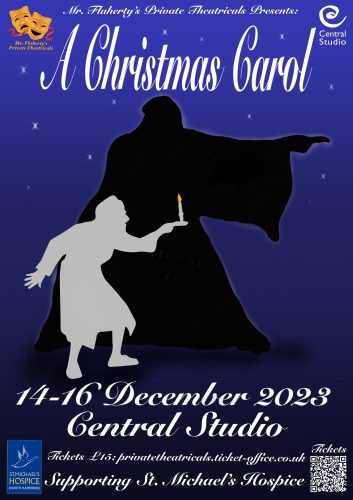 If you've been inspired to do some fundraising, you can find out more about how you can support us here.