Memory Tree
Located in the light and welcoming Hospice foyer, the Memory Tree is a beautifully designed sculpture displaying a stunning array of bronze, silver and gold leaves, with a memorial meadow of 10 bespoke Sunflowers at the base.
What is the Memory tree for?
The Memory Tree is a meaningful way to remember and honour your loved ones. By dedicating a leaf or sunflower you will not only be creating a lasting tribute to them – you will also be helping other families to create special memories at difficult times. The loved one you wish to remember does not have to have been cared for by St. Michael's Hospice to have their name on our Memory Tree, however your donation will allow us to continue to provide care and support to those in our community who need us.
How long will my dedication remain on the tree?
The leaves remain on the tree for 12 months, and the sunflowers for 24 months. We will get in touch when it's time for your renewal. At that point, you can choose to either make another donation to keep your dedication on the tree or have it sent to your home as a keepsake.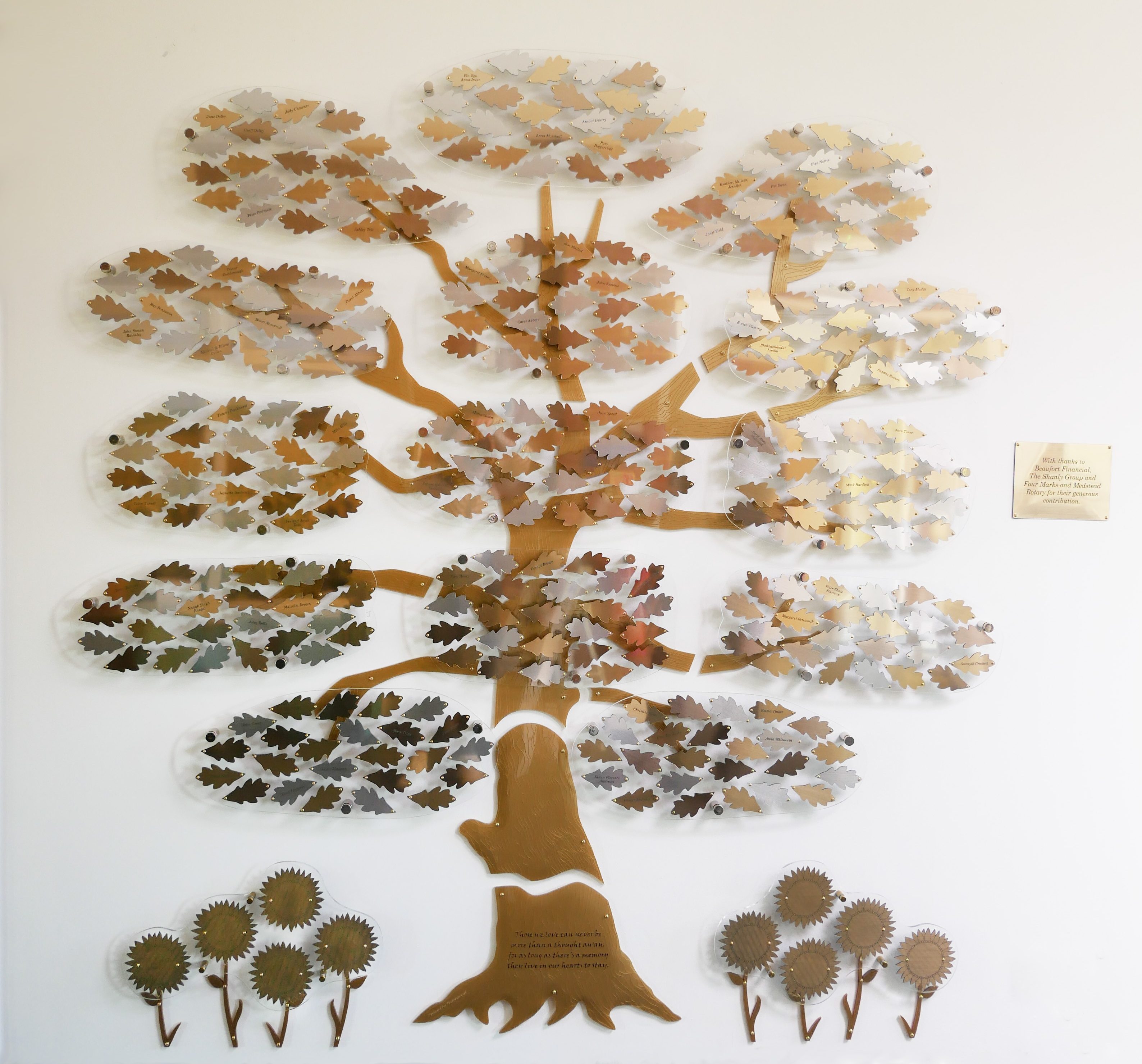 Can I visit the Memory tree?
You are welcome to arrange a time to visit the tree whenever you need a moment to sit, reflect, and remember.
How do I make a dedication?
You can choose to make an annual donation for your loved ones Memory Tree leaf, or you can set up a monthly direct debit instead. Whichever one you decide is best for you, it can be completed by clicking here.
For more information or to book a time to visit the Memory Tree, contact the fundraising team, Monday – Friday, on 01256 848848, or email them on fundraising@stmichaelshospice.org.uk.
£100 could help towards the cost of bereavement counselling for a patient's loved one.
£200 could help fund our 24-hour support phone line for patients and their families for a day
£300 could help towards maintaining a syringe driver for one year.
£1000 could contribute towards the cost of a pharmacist per week to dispense and ensure effective medication
Terms & Conditions
Please allow a minimum of three weeks for your leaf/sunflower to be engraved.
Each leaf or sunflower will be engraved with the name of your dedication as written on your order form.
If your choice of leaf colour is not available we will ask you if you would like to make a second choice.
In the event that the tree is full when you make your dedication it shall be added when the next space becomes available. You will be notified if this is the case.
At the end of the 12 month period (24 months for sunflowers) a member of the Hospice fundraising team will contact you to offer you the opportunity to renew your dedication for the same amount of time (minimum donation amounts apply). If you do not wish to renew your dedication, your leaf or sunflower will be returned to you for you to keep. The period begins when your leaf is first displayed not when the dedication is made.
For those who choose to pay for their leaf by Direct Debit, your leaf will remain on the tree whilst your Direct Debit is running. However, we will write to you at the end of the first 12-month period with an update on the Memory Tree, including a picture of your special engraved leaf in place on the tree.
Monthly donations are inclusive of the additional charges and administration fees of processing direct debits.
In exceptional circumstances, St Michael's Hospice reserves the right to move or relocate the memory Tree to another appropriate site within the hospice premises.