Stephen Butler
written by Stephen's wife Sarah
Stephen Butler, 48, my husband, dear Daddy, loving family member and friend
Our son Sammy loved all the palliative care team and drew a picture of a dinosaur nurse which now has pride of place on the wall in their office.
Tuesday 9th July 2019 will be a day that we will never forget, Steve rang me to say he was in a lot of pain which was quite normal as he had a lot of medical conditions but I knew something was wrong.
We went to the hospital and left there at 2 in the morning, they ruled out kidney and gall stones. We were asked to go back the next day to have an ultra sound and that is where our journey began. Over the following weeks Steve had numerous tests, bloods, CT scan, MRI scan, liver biopsy and colonoscopy, every visit to see the consultants the news just got worse, it was heartbreaking.
August 9, 2019
Friday 9th August we were told he had terminal cancer he was offered chemo to help prolong his life but this was very short lived as the side effects were too much for him to bear. He made the hardest decision to withdraw from treatment to then try and have some fun and quality time with us.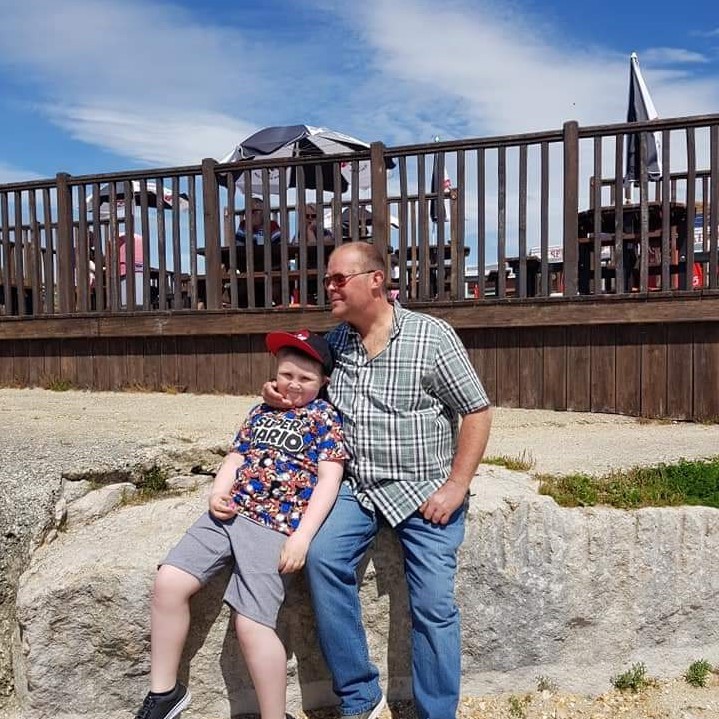 Our last family holiday
We got to go to The Vyne Show and spent a few days in Weymouth which as a family was our favourite place. We had many wonderful memories of holidays there over the years.
Hard decisions
We then had the hardest decision any parent should have to deal with in telling our beautiful son Sammy that his Daddy was dying, he was, and still is, the most amazing child and is my rock.
Again all this was short lived. Steve deteriorated so fast, we were now having the wonderful care from the Hospice. Tuesday 8th October a doctor and our nurse Paul from the Hospice decided to fit Steve with a syringe driver hoping this could be removed at a later date. Day by day Steve deteriorated. We had 2 weeks of him pottering around the house and each day we had the palliative care team coming out. They were wonderful, just giving us all as a family so much care and love. Sammy loved them all and drew a picture of a dinosaur nurse which now has pride of place on the wall in their office.
Steve then took to his bed. His last film was the Queen movie. I always say we are the champions.
Each day over the next 2 weeks it was hard, I knew we didn't have long. I nursed him for hours, Sammy tried his hardest to see Daddy but found it really hard to cope with. Whatever Steve wanted we got for him. We had lots of visitors which was lovely and very comforting.
Monday 4th November, after spending 2 weeks in bed, our dear Steve found the strength to walk down his home stairs for the last time. He was admitted into the Hospice and the team were amazing. We were told the next day that we didn't have long, that afternoon Steve went to bed and this was the last time he woke up. We had lots of family and friends visiting, it was so hard seeing him like this but the wonderful team reassured us that he was not suffering.
Wednesday 6th November at 10.56 am Steve passed away surrounded by so much love and care, our true hero.
In the time we were at the Hospice we spent a lot of time in the small conservatory and right outside was a beautiful vibrant red tree called an Acer Firecracker. We all found so much comfort from it, it was so warm and vibrant we have now named this tree Steve's tree.
The Hospice team are truly amazing people and shine so brightly in our hearts.
I have now made a big decision. I got made redundant by choice after 31 years. I want to become a volunteer at the Hospice and be able to give other people that are going through so much heartache like we did hope, love and to try and show them there is life to live.
I have been so lucky to have had the support over the last few months from a wonderful lady called Chris, a counsellor at the Hospice, who gave me so much support and helped me to smile again and realise there is life to live and carry on.
On Steve's first anniversary we had his name put on the memory tree at the Hospice, he is now shining bright there and we will always be truly grateful to the Hospice team in all that they did for us as a family and for Steve.