Tracy's Story
Tracy shares her memories of her late husband Jim and the experiences that led her to join our St. Michael's team.
In 1996 I had the 'perfect' family, I was married to a wonderful, caring man who worked hard to provide for his family and had 3 wonderful children. Life could not get any better!
"In February 1996, my husband Jim complained of shortness of breath and feeling tired. I persuaded him to go to the doctor. At fi rst they put it down to Asthma, his parents had both passed away with this, and he was given an inhaler and told that hopefully things would improve. But they didn't! The symptoms became worse and he was sent for an MRI. Our perfect world fell apart; the consultant asked my husband if he had ever worked with Asbestos. To my horror they explained that my husband had 'Mesothelioma', a type of lung cancer caused by asbestos. There is no cure. All I could think about were our 3 beautiful children, who would lose their dad; he would never see them grow up, see them get married or celebrate their careers with them.
The next 3 years consisted of hospital visits and a lung operation. Jim managed to cope with Chemotherapy and Radiotherapy, but it made him very ill. It was clear it was not working so all treatment was stopped to enable him to have the best quality of life and to spend as much time as possible making precious memories with our children.
We coped at home for as long as possible but Jim wanted the children to remember their 'Fun Daddy' the dad that played in the garden with them, that laughed and played jokes! We were asked if we would consider St. Michael's Hospice. To be honest, I had never been in a hospice or knew anyone that had so did not know what to expect. We agreed to look. The most important thing was that Jim was happy and in an environment he felt comfortable."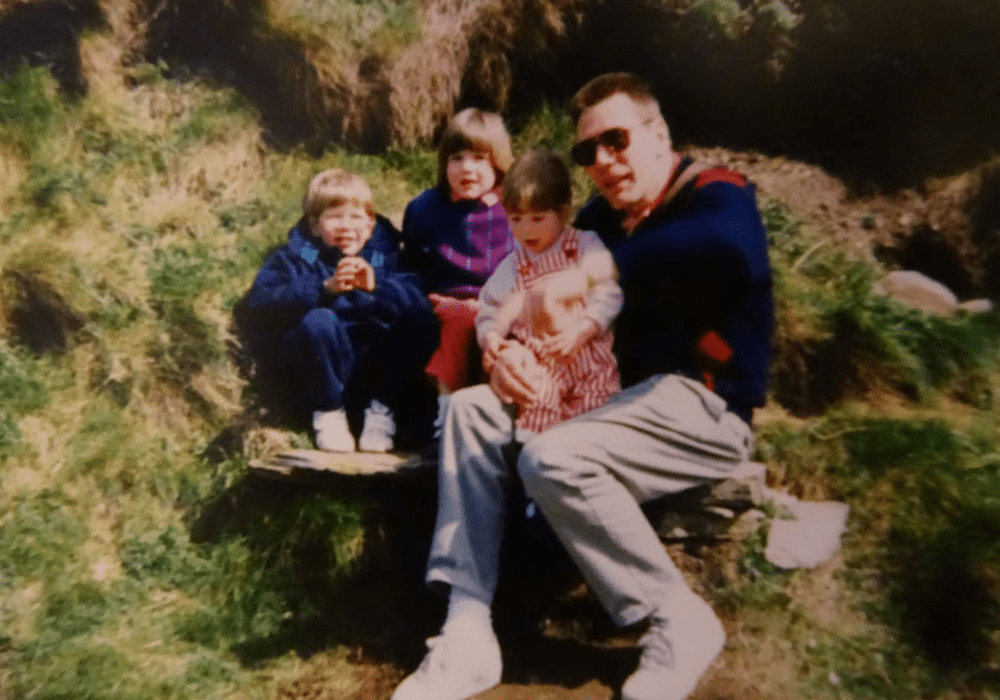 Jim with Nick, Francesca and Carly
"On arrival we were met by Matron (as it was back then) and shown around the In-Patient Unit. We were blown away with the kindness and consideration of every person we came into contact with: from the receptionist, volunteers, nurses and doctors. They listened and understood what we were going through. Jim just smiled at the end of our visit and said to the Matron he would like to come in; he hadn't seemed as calm in a long time. As much as it was hard for me and the children, Jim had to come first; it was him going through this awful disease and he had to make his own choices, we would support him as a family.
Jim spent two weeks in the Hospice. I could not have wished for a better place for him to live his last weeks. I stayed every night by his side, like I had been at every hospital visit over the last 3 years! Everyone was so kind – nothing was too much trouble. It was our wedding anniversary while Jim was in (he must have told the nurses!) as, when I came back one morning from going home to see the children off to school, I was presented with flowers and the chef made us both dinner to celebrate. Everyone working at the Hospice did their utmost to make us both comfortable.
Jim passed away on 2nd May 1999. The children were 11 (Nick), 10 (Francesca) and 8 (Carly); how were we going to carry on? I was offered Bereavement Counselling, which proved to be my lifeline; I could not believe this charity offered so much help!
Despite losing my husband at such a young age, I do feel lucky, as I have gone on to meet another wonderful, kind man, Chris, who has been the best step-dad to Nick, Francesca and Carly. We also went on to have two children of our own, Mia and Eryn."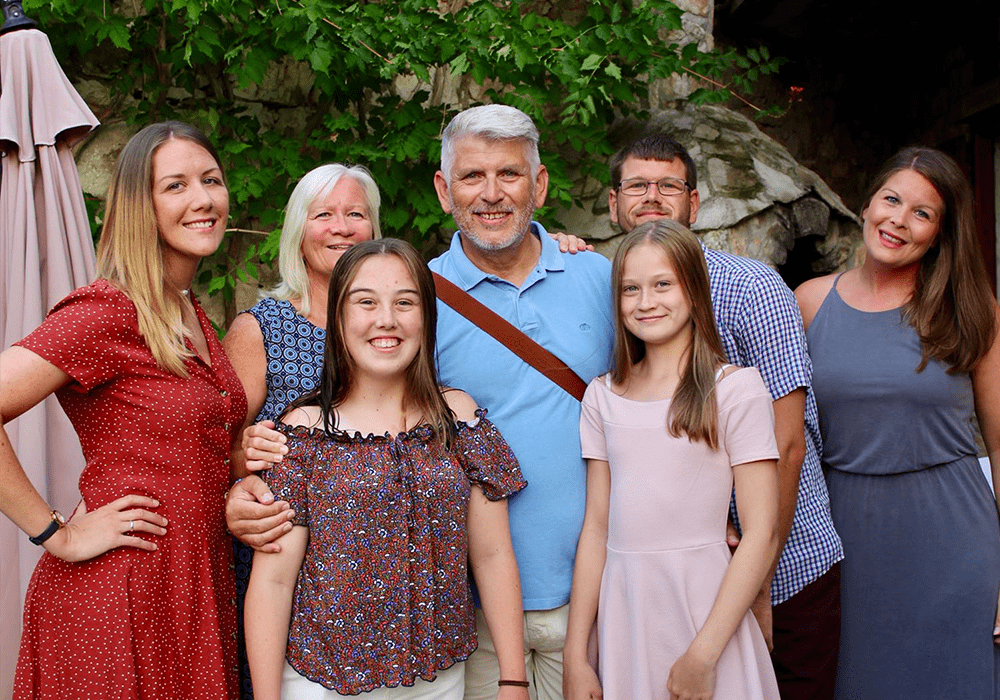 Tracy and Chris with Nick, Francesca, Carly, Mia and Eryn
"I have been working at St. Michael's since 2010, now as the Voluntary Services Manager; I absolutely love my job. I am just as passionate working here as I was when I first started. So much so that a couple of years ago Francesca and I abseiled down the Spinnaker tower in memory of Jim and to raise money for the Hospice. To make a difference to families at a time when they need supporting feels me with such pride. I am one of those lucky people that can honestly say I enjoy coming into work every day and being part of this wonderful team! The volunteers never cease to amaze me with their commitment and support, not only to our patients and families, but to our staff. I am honoured to be part of this amazing organisation; a team that is moving forward together to provide the greatest care to our patients and families living with life limiting illnesses.
Next year it will be 20 years since we lost Jim, so we are planning on doing something special to raise more money for this amazing place! The girls are trying to talk me into a sky dive… watch this space! I am very privileged to have 5 wonderful children who are there for each other, and an amazing man who holds us all together. I am so proud of Nick, Francesca and Carly who have grown into such caring and supportive adults; their dad would be so proud of how they coped and dealt with his death."
"Every one of us goes through struggles and lots of ups and downs in life. If I had one wish it would be for everyone to be kind, caring and considerate, as you never know what the person you are standing next to is going through.
Thank you, St. Michael's Hospice."
Tracy Sandle