Online Shopping
We have lots of ways you can support St. Michael's while doing your online shopping.
Our online shops allow you to enjoy shopping in the comfort of your own home whilst also knowing that every penny of profit goes towards helping us continue to provide free care and support.
You also have the option to raise money for the Hospice at no cost to yourself through using one of the gateways listed below. All four of them will make a donation to the Hospice of a portion of your purchase price, so shop away and do good at the same time!
Buy your cards through Making a Difference:
How your donations are raised:
Buy your personalised cards or 3D ecards for any occasion using Making A Difference. They take no commission or charge any fees – so up to 100% of your donation reaches us or 125% if you Gift Aid it! You can choose from over 1300 designs, customise your message/text, upload your own photos, send an audio or video message and have them delivered by post, email or text message.
How to shop and raise donations for our Hospice:
Go to Making a Difference
Choose your card
Select the donation amount you would like to add
Personalise your card and finish shopping
Shopping with AmazonSmile:

How donations are raised:
St. Michael's Hospice is part of the AmazonSmile charity programme, through which Amazon will donate 0.5% of the purchase price from eligible AmazonSmile purchases to the charity of the buyer's choice.
How to shop and raise donations for our Hospice:
Go to smile.amazon.co.uk
Login to AmazonSmile using your usual Amazon login details and select St. Michael's Hospice (North Hampshire) as your chosen charity.
Go shopping to raise funds for the Hospice!
Don't forget to bookmark this page as you will need to access smile.amazon.co.uk each time you shop with Amazon. Unfortunately there is no option to select charity donations on the main Amazon site.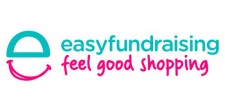 Shopping with Easyfundraising:
How donations are raised:
With Easyfundraising, simply shop with any of 3,300 online retailers including Argos, Asos, Booking.com, John Lewis and M&S and when you make a purchase, the retailer sends us a free donation, at no extra cost to you.
A full list of participating retailers can be found here.
How to shop and raise donations for our Hospice:
Click 'Support this cause'
Create an Easyfundraising account
Click 'Get the Donation Reminder' to accept your participation
Go shopping and raise funds for the Hospice with Easyfundraising!
You can also view a how-to video here.
Shopping with GiveasyouLive
How donations are raised:
Go to Give as You Live
There is a short sign up page
Browse over 5,500 stores and a portion of what you spend comes to the Hospice!
Thank you so much for the funds you raise for St. Michael's Hospice through online shopping. Every donation counts!