Philippa's Appeal
More people coping with a serious illness are choosing to be cared for at home than ever before. Please help us extend our Hospice at Home hours, so we can deliver our special care to more local people.
More patients are coming to us than ever before
I am part of dedicated team bringing comfort to people reaching the end of their lives. The truth is, more patients are coming to us than ever before, asking to be cared for at home, where they feel most comfortable. But, I'll be honest, it's a stretch for us to reach each family who needs us. We must expand our Hospice at Home care service, ensuring more local people receive our support – so that's why today, I'm asking for your help.
Philippa Aslet, Director of Nursing.
Please click here to hear more from Philippa.
It's essential to extend this vital service, so St. Michael's can reach even more families that are struggling without help
When I met my husband Keith, he was a pilot in the Air Force. An adventurous, active man, he was very keen on all sports and at one time, was chairman of the local cricket club. Keith retired early and we spent many winters in Florida enjoying the warmer weather and playing golf. It had always been our dream to spend our later years travelling around Europe, visiting wonderful places we'd never been before.

Our world came crashing down when our eldest son died. We never thought we'd face that kind of trauma. It was around this time that Keith started exhibiting some unusual behaviour. I came back from a walk one Sunday to find that he'd fallen backwards whilst climbing upstairs. He was in terrific pain and had broken several ribs. This was the first of many unexplained falls and broken bones.
Jaga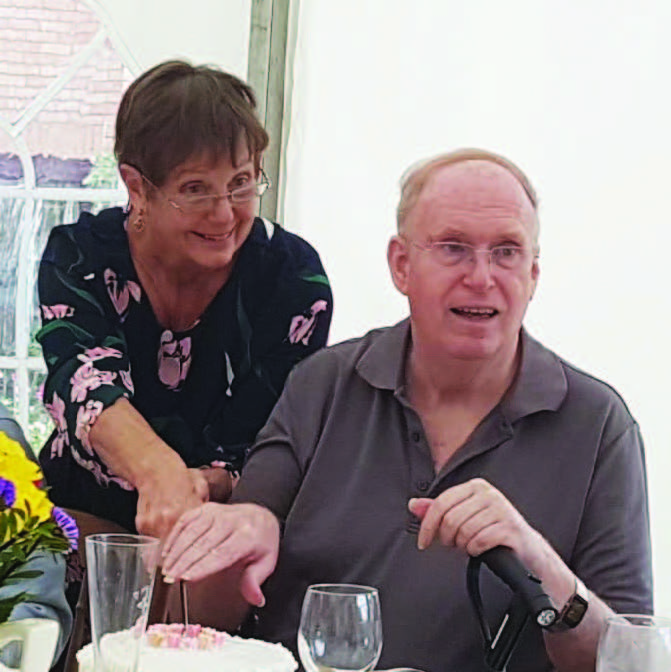 For a while he was able to manage with a walking stick, and with careful management, life continued as normal. However, things started to get worse – the falls were becoming more frequent and Keith was experiencing other symptoms. "I'm okay," he'd say – he always played everything down.
Finally, after meeting with a neurologist, we got the diagnosis. Keith had Progressive Supranuclear Palsy, a rare disease that meant his brain stem was dying. We were told it was incurable and that we'd struggle to find specialist help locally. That was when we were referred to St. Michael's Hospice. They gave me the help and support I needed to deal with Keith's illness – they really proved to be a lifeline for us.

When I could no longer look after Keith on my own, it became clear that he needed round-the-clock nursing care, but the only place he felt comfortable was at home – and I had to find a way of looking after him there. I applied for funding so that Keith could stay where he was but was told that all care at home would be suspended until after the pandemic because there simply weren't the funds; it was an unsettling time.

But with the hospice's help, Keith was able to have a 24-hour live-in carer to help look after him – it was a huge relief. St. Michael's supported me in caring for Keith at home and organised equipment for him, including a specialist bed that kept him comfortable and safe. Then there were the things you don't even think about, like slippery bed sheets that made it easier for me to manoeuvre Keith, a talking watch so he knew the time, a shower chair to stop him from having more falls – things that made life that bit simpler for us.

The hospice nurses and doctors were fantastic – they treated Keith with such respect and empathy. If ever there was an emergency situation at home, they came out to us straight away. They'd regularly call me to check how Keith was doing – and, just as importantly, would ask if I was OK. I could contact them any time – for advice on Keith's medication, or to share my concerns – they were always there. I don't have much family, so being able to turn to the hospice for help made the world of difference during those last ten months.

In his final days the nurses visited us daily and made sure Keith was comfortable. I can honestly say I don't know what we'd have done if it weren't for St. Michael's and their Hospice at Home service. It gave us hope. When you're surrounded by your own things, in a familiar space, it makes life easier and brings some solace.

I know for Keith, having care at home helped him die a 'good death' – as strange as that may sound. That's why it's essential to extend this vital service, so St. Michael's can reach even more families that are struggling without help. If Hospice at Home wasn't there, how would those families cope?
I hope you'll consider supporting St. Michael's Hospice so they can keep giving more families the care at home they can depend on.
With thanks,
Jaga
Further Information
Please contact our fundraising team on 01256 848848 or email fundraising@stmichaelshospice.org.uk.
Donate to Philippa's appeal
Help us extend out Hospice at Home Services