Friends of St. Michael's Celebration of Carols and Christmas Music
Date: Thu 9th Dec, 2021
Location: All Saints Church, Odiham
Join us at All Saint's Church in Odiham to enjoy a beautiful Celebration of Carols and Christmas Music. Performing will be the Magdalen College Choir, Oxford and the Tippett String Quartet and there will be a reading by author and ITV News at 10 presenter Tom Bradby. The celebration will be led by Canon Roger Royle and we will be joined by the Mayor of Basingstoke.
Wine and mince pies will be available to enjoy.
Tickets are £30 per person and are also available to purchase from the store Katherine Jane on the High Street, Odiham. There will be limited tickets available for this event.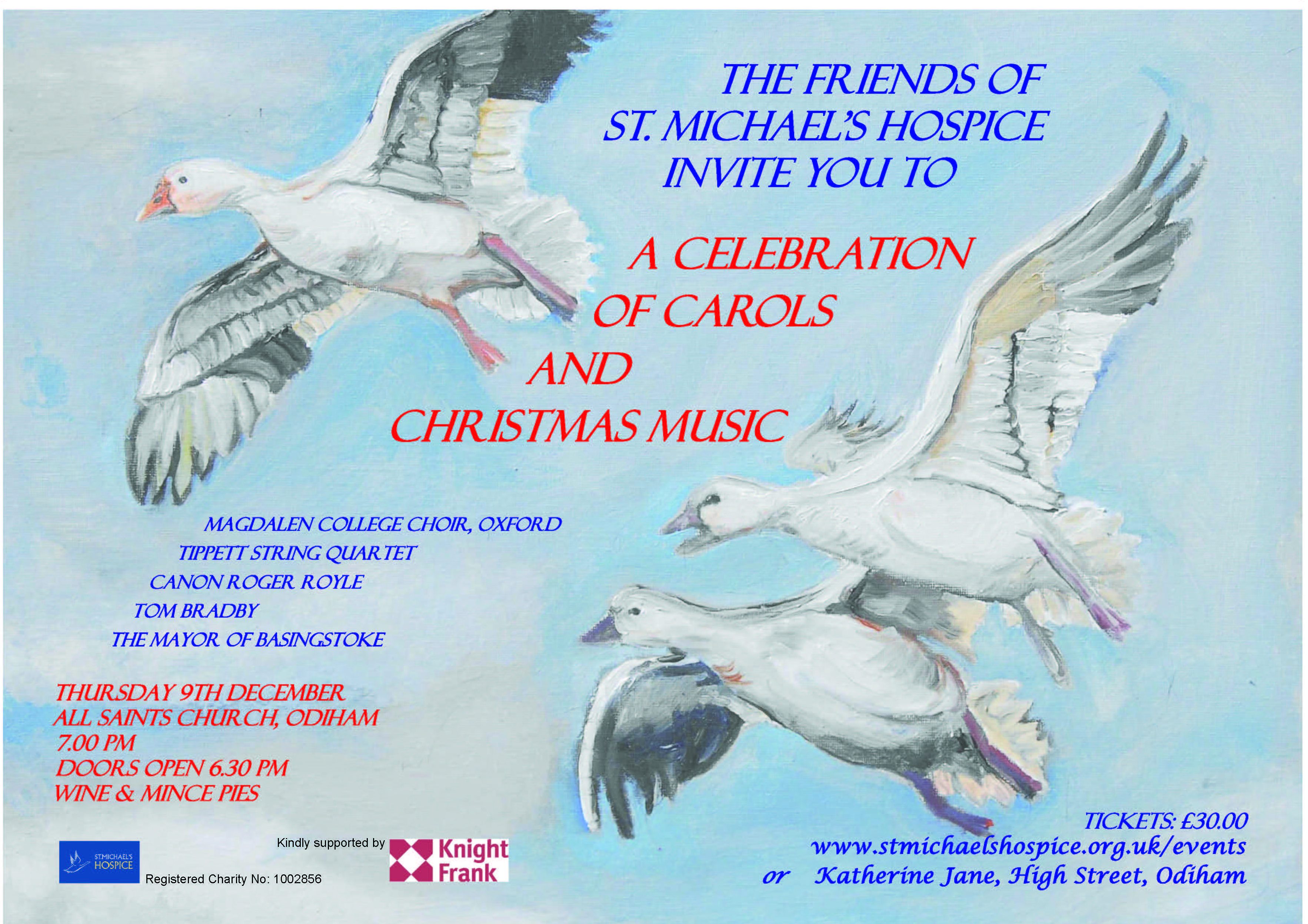 Covid-19 Information
** Please be reassured that there will be arrangements in place to manage COVID-19 for the duration of this event. These will be continually reviewed to ensure we are adhering to the most up to date government guidelines and advice, ensuring the paramount safety of our participants at all times. We are monitoring our events closely and should any changes need to be made, we will update you via email, so please keep checking!.**
There will be hand sanitiser placed around the site, however we also encourage you to bring your own. We kindly ask you to adhere to the current Government guideline set at the time of this event and would like to thank you in advance for your cooperation.
In the event that we would need to take the decision to cancel this event due to COVID-19, you will be entitled to a full refund.  Alternatively, if we are able to postpone the event to a later date in the year, we will do so and your entry fee will be automatically transferred to the new date. However, if you are unable to make this new date, a refund option will also be available. Please note, that if you are unable to take part in the event due to COVID-19 illness or self-isolation, your entry fee will not be refundable. In this circumstance, you will have the option to transfer your place to a friend or family member, providing this is in line with the Government guidelines at that current time.
Our Celebration of Carols and Christmas Music is kindly supported by
Further Information
Please note that this event is being hosted on behalf of the hospice by The Friends of St. Michael's Hospice. Contact details from purchasers will therefore need to be shared for administrative purposes only.
For further information on this event, please contact Ginny Young, The Friends of St. Michael's Hospice, at ginnymoose@btopenworld.com.
Purchase Tickets